Ngarrindjeri Nation

Ngarrindjeri Sister Basket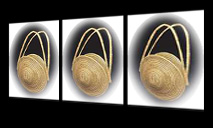 Original Art Work - Claudia Raddatz
3 sisters
interpretation of detail by Ellen Trevorrow
Ngarrindjeri people Sister Basket (detail) 1999


"From where we start, the centre part of the piece, you're creating loops to weave into, then you move into the circle. You keep going round and round creating the loops and once the children do those stages they're talking, having a conversation, just like our old people. It's sharing time. And that's where our stories are told." Ellen Trevorrow, NGARRINDJERI WURRUWARRIN: A WORLD THAT IS, WAS, AND WILL BE , Spinifex Press 1999, page 44.

Sincere expression of sorrow and apology to the Ngarrindjeri People.
Read letter ...

Re: Proposal for relocation of Hindmarsh Island Ferry Service
Read letter ...